Sherpa XXIII - the Fourth Dog in the Family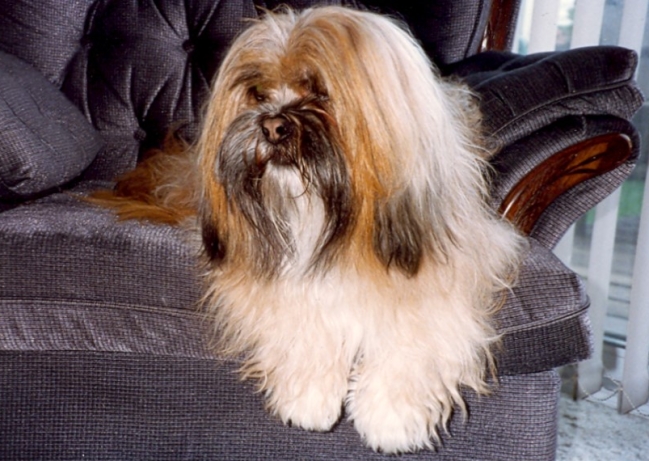 Sherpa XXIII in 1993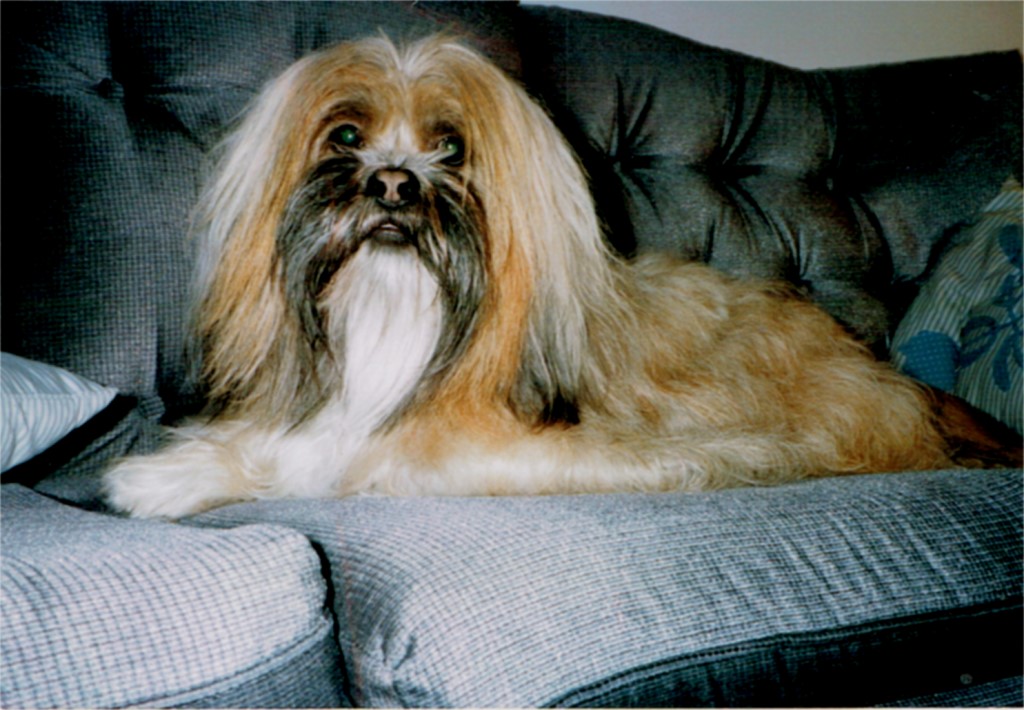 Sherpa XXIII in 1993
Sherpa was our first purebred Lhasa Apso and was born March 10, 1990 and we purchased him in May 1990 from Pices Pet Emporium.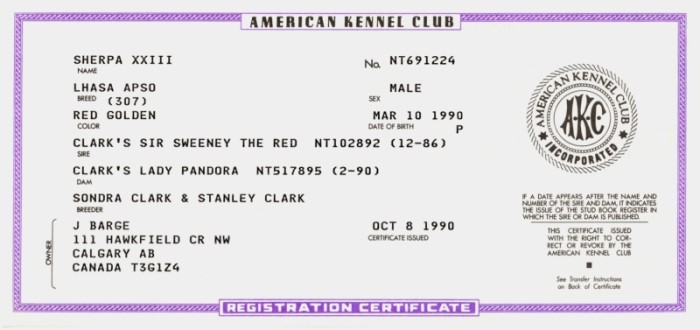 Sherpa's American Kennel Club Registration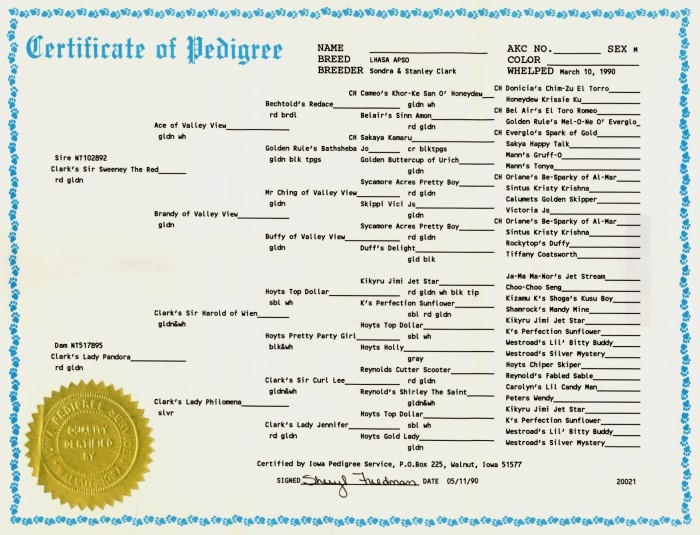 Sherpa's Iowa Pedigree Service Certificate of Pedigree
As a pup Sherpa was cute and mischievous as most Lhasa Apso's are, however we quickly found that he very much hated to placed in closed places.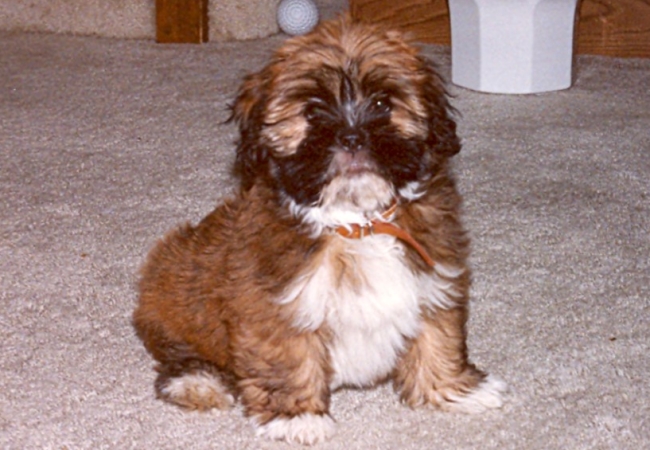 Sherpa at 3 months in May 1990
By July 1990 he was exploring the outdoors and starting to fill out his coat. By this time we had discovered that he had separation anxiety and did not like being left alone. This was something we never really learned how to deal with.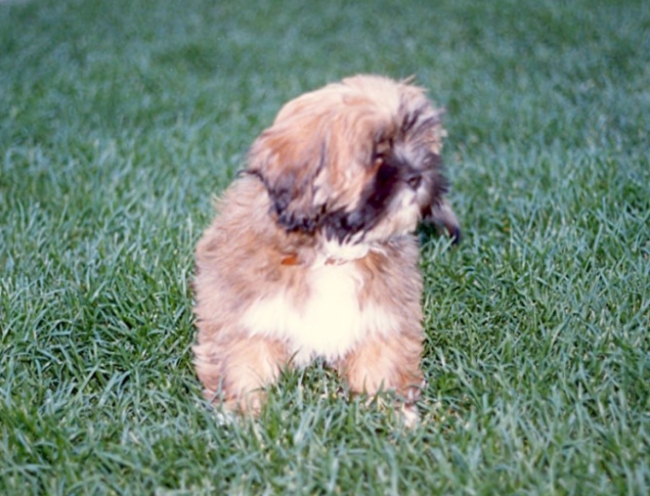 Sherpa at 5 months in July 1990
Sherpa was great with our children and Grandchildren and was very much loved by them all!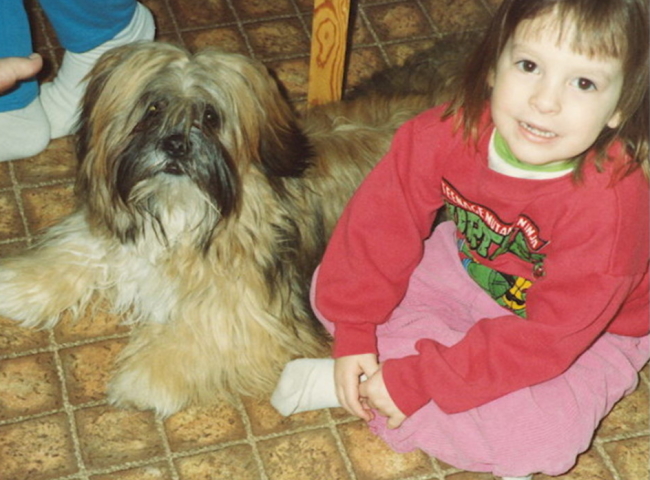 Sherpa with our oldest Granddaughter Jessie at Christmas 1990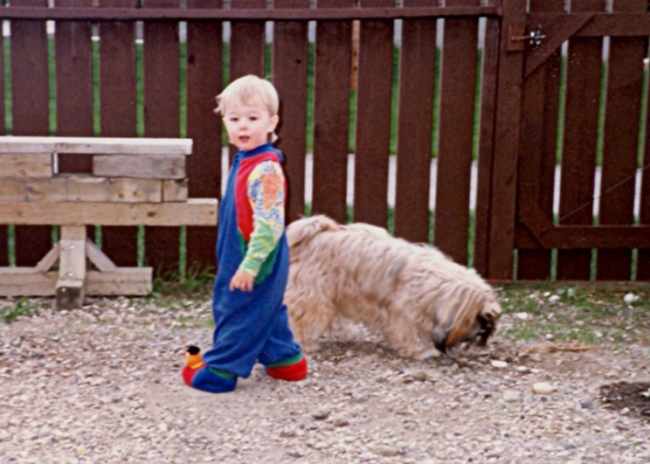 Sherpa with our first Grandson Joel in June 1992
We moved to Redwood Meadows in 1994 and Sherpa managed to meet such critters as Deer, Coyotes and Skunks. The Deer he once chased across the highway when we did not have on a Leash yet and mistakenly opened the Garage Door to find two Deer standing in front it. He had a fight with a Coyote Pup that attacked him while on a walk on the Burm. The Skunk was a rather smelly encounter. Early one morning he went out the front door to do his business, while Herb got the paper. He immediately took off around the House followed at a run by Herb. He had a Skunk cornered in the Trees and as Herb reached to grab Sherpa the Skunk let Sherpa have it. He smelled of Skunk every time he was bathed for years.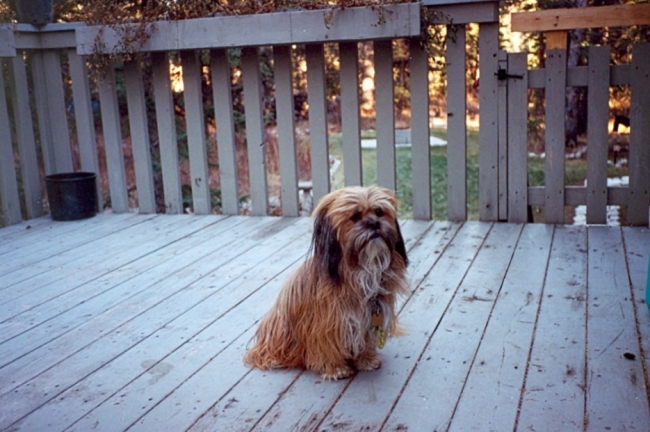 Sherpa on the Deck at Redwood Meadows in the Fall of 1994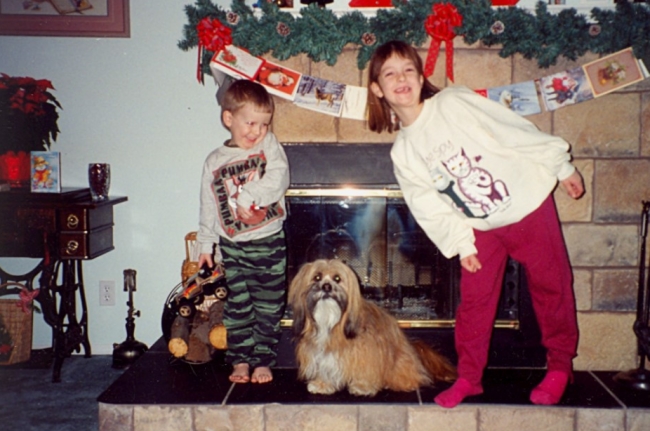 Sherpa with Grandchildren Taylor & Jessie at Christmas 1994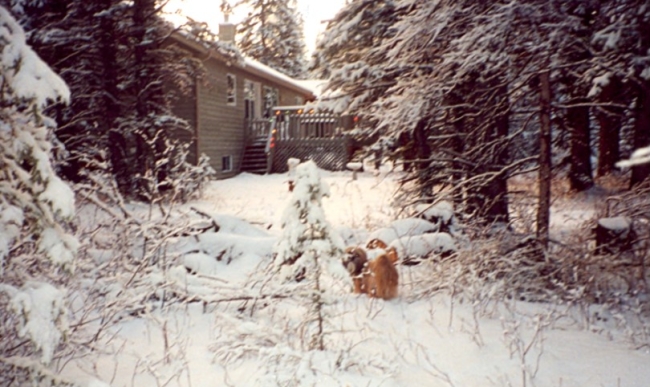 Sherpa in the backyard at Redwood Meadows March 1995
Sherpa liked to travel with us particularity in the Motor Home. On one trip to Vancouver in 1996 it was a very hot ride and when we stopped at a rest stop on the Coquihala Highway, Sherpa, who did not like water, waded into the nearby stream and layed down to cool off.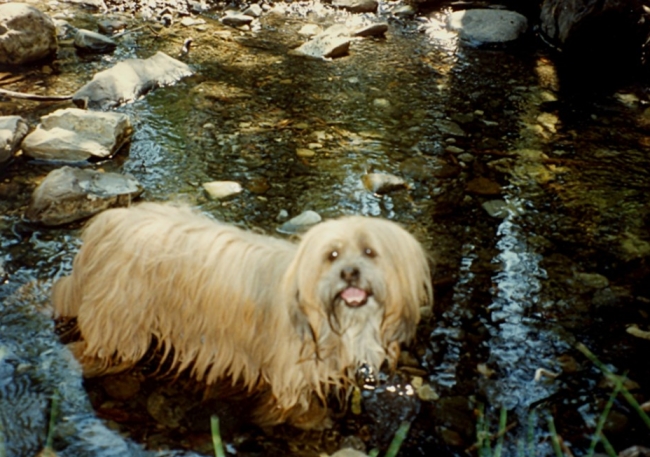 Sherpa cooling off in the stream!
Sherpa also liked to hike and camp with us, however he liked going downhill much more than going up hill. Going up his Tail was down and he looked like he was in agony, but coming down his tail was up and he was prancing.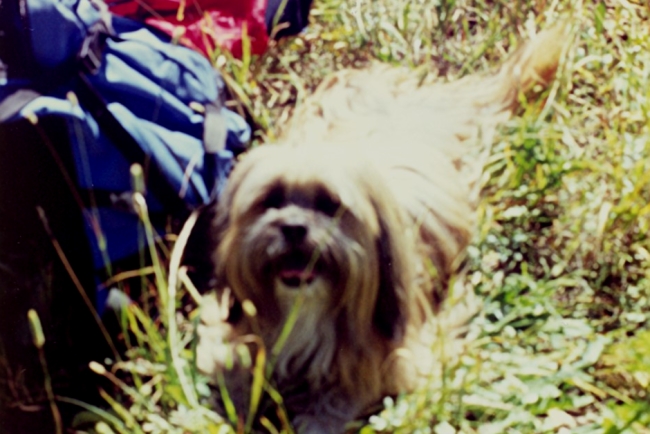 Sherpa at Ribbon Creek 1997.
One time we were camping at Little Fish Lake and we went for a walk along the Gravel road leading into the Campground. Sherpa was off leash and spotted some Cattle in a pasture next to the road, which had waist high grass in it. He took off after the Cattle and it was funny as the only time you could see him was when he jumped up in the air to see where the Cattle had gone. He eventually heeded our call and came back. We put him on leash and started back to camp, only to notice he was limping badly. Picking him up we discovered a Porcupine Quill imbedded in his foot. We had to carry him back to the Camp and cut the Quill with a pair of scissors to let air out of it so we could extract it. He was fine as soon as it was removed.
Sherpa traveled with us a lot in our Motor Home, including many visits to Herb's Mother in Kyle.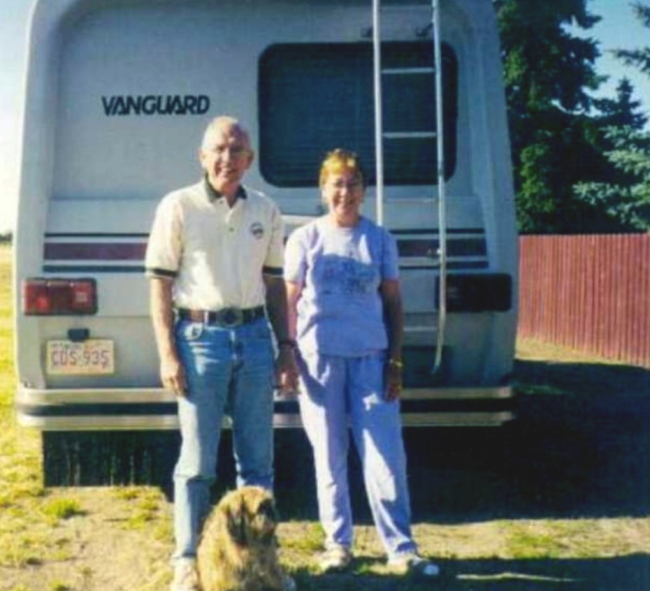 Sherpa with Herb and Janet behind Motor Home in Kyle July 1999
In August 2001 he visited Anmore, BC and went for a few walks with our Grandchildren.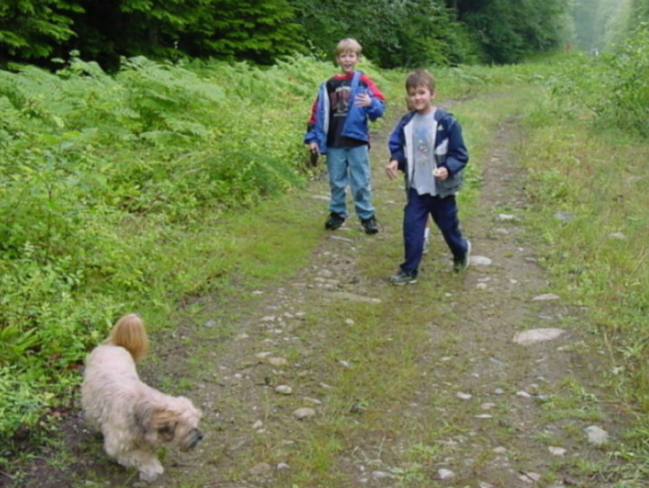 Sherpa with Taylor and Mark August 2001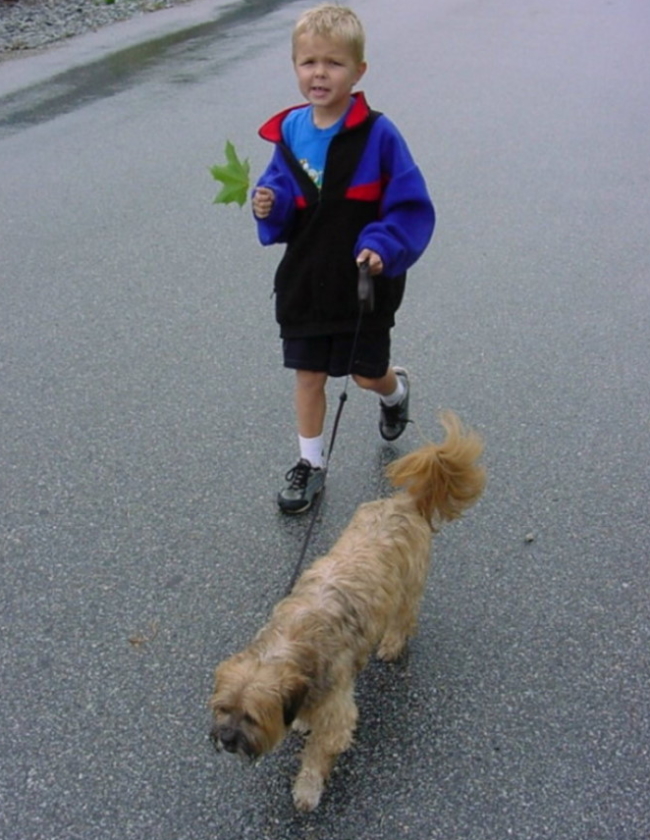 Sherpa with Todd August 2001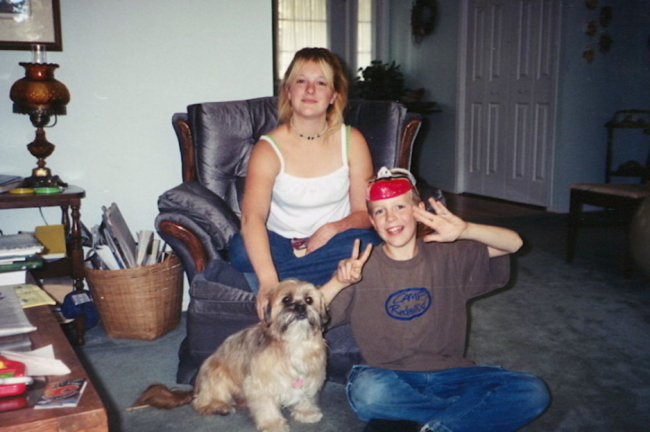 Sherpa with Jessie and Taylor October 2001
Her is Sherpa in is Coat at a Skating Party after Christmas in 2001.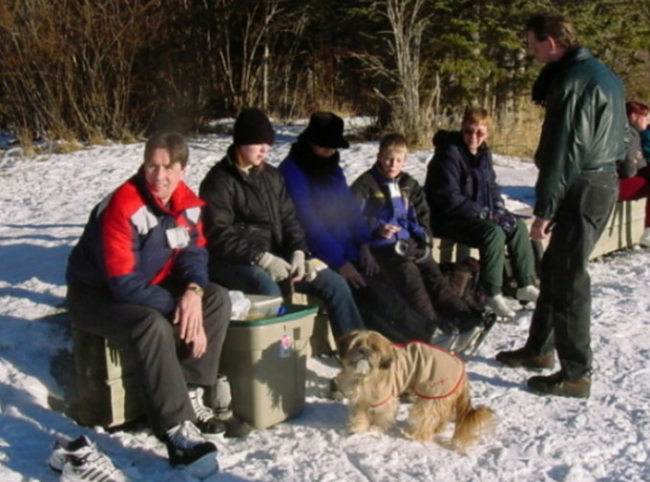 Sherpa at Skating Party with Kevin, Jessie, Laurel, Taylor, Janet & Dave
On September 1, 2002 he was part of our Portrait for 40th Wedding Anniversary Picture.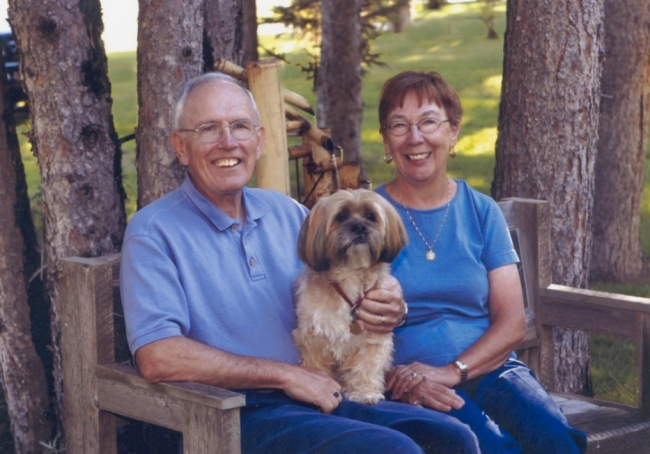 Our 40th Wedding Anniversary with Sherpa September 2002.
Our next door neighbors Rick & Donna had a Corgi female named Bailey who was a good friend of Sherpa. They later got a second male Corgi named OZ who did not get along with Sherpa at all and would sometimes attack him. Bailey would come to his rescue. Sherpa by this time was getting deaf and blind. He was clipped short at this time because he could not stand being groomed.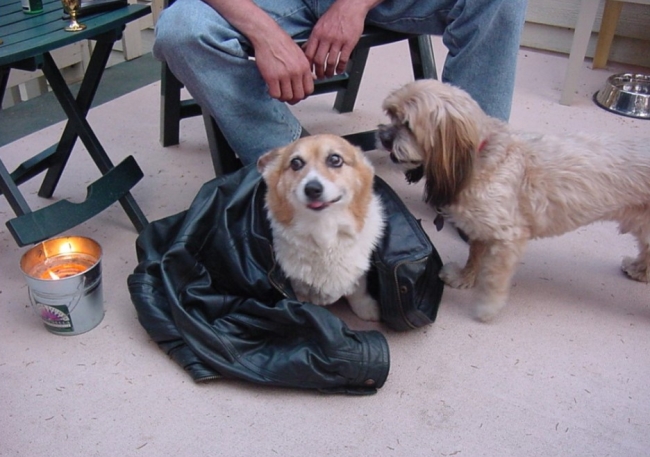 Sherpa with Bailey in June 2003.
In October 2003 we got a new SUV and Sherpa loved to ride in it.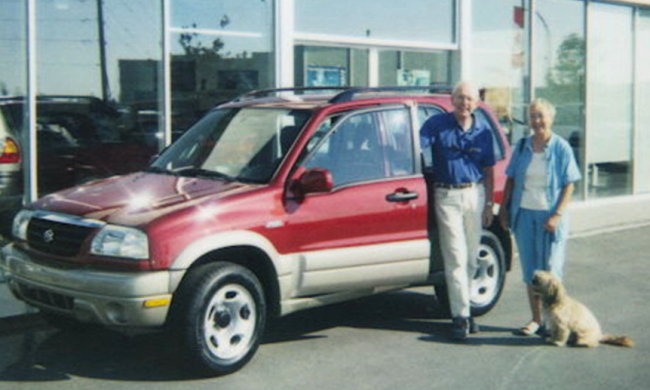 Sherpa with Herb & Janet & New Car October 2003.
Page updated june 9, 2015