Nathaniel William Baker's World War One Story!
As told by his Grand Nephew Herb Barge
My Great Uncle Nathaniel William Baker was born May 14, 1889 in London, England, the son of John William Baker and Sarah Holmes. Sometime after 1891 he was placed in a Dr. Barnardo Orphanage. We have discovered that all of his siblings had been placed in an orphanage, but not Dr. Barnardos, shortly after their birth but we are not sure why. These included his older sister Emma Theresa (who also came to Canada), older brother John, and younger brothers William and Henry.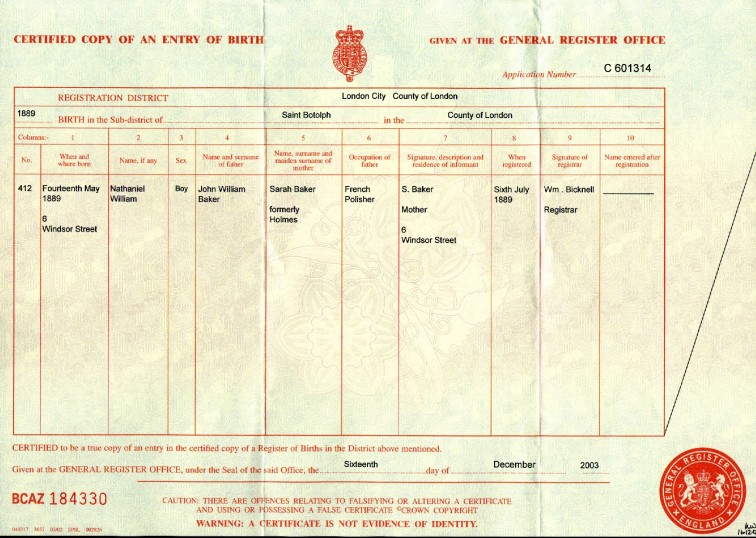 Nathan's Birth Registration
Nathan always thought his birthday was June 29, 1889 and we think this comes from what was recorded on his baptism record on March 8, 1892 (see below). However his official birth registration which was made by his mother on July 6, 1889 shows the May 14, 1889 date as per the above. We are not sure which is correct.
Nathan's Baptism Registration
In the 1891 British Census he appears with his parents:
1891 England and Wales Census living at 135 Queen Ann Street, Parish of St Mary, Whitechappel District, County of London, England, schedule 8,
John Baker, Head, Married, Age 25, Occupation - French Polisher, Employed, born London St George's
Sarah Baker, Wife, Married, Age 27, Occupation - Cap Maker, Employed, born London City
Nathaniel Baker, Son, Age 1, born London City
After having come to Canada in March 1901, as a "Home Child", he grew up in the home of the William Wass family at McLean, Saskatchewan.
In 1903 he wrote an article for "Ups & Downs" as a Dr. Barnardo Orphan, under a column titled "Our Young Colonists in the West".
McLean, Assa., Feb 16th
Dear Sir - I am now going to tell a little of my experience since I cam to the North-West. I arrived in Qu'Appelle on April 2nd two years ago. I was met by a gentleman, who took me to the hotel, where I had breakfast and dinner. Mr. Wass came for me in the sliegh. We had ten miles to drive home; it seemed a long way. Most of the houses are built of logs and plastered inside and out. They can be very comfortable and warm, although they don't look as good as the houses in England. Soon after I came we had a snow storm. The next day I went with Mr. Wass to a neighbour's a half a mile away. I had to come home by myself. I came all right until I came to a slough in fron of the house, and instead of going around it I went right through it. I was in snow and water up to my knees, and it was a pretty cold morning, but luckily, I was near the house and got into dry clothes. I was very careful where I went after that. The first week or two I did not do much but learn to cut wood and have a good look around the farm until herding started. My work in the summer is to herd the cows (about nine head), and I cut wood. I take a book or something to read with me when I am herding. I pick wild fruit and take it home and get a little pocket money, which I save until I go to town. I sometimes go to picnics in the summer. In the winter we go out visiting, and I have been to two Christmas trees, and enjoyed myself. I always get my share of presents. My work in the winter is to help water and look after the cattle, and milk one cow, and help a little in the house, and cut wood for two stoves. I generally go to the English Church when I can. It is about three miles from our place. When I don't go, I spend my Sundays reading; also evenings when I have done my work. I like this country fine. I think it is a good place to get along; a boy has a better chance here than in England. I get along nicely with Mr. Wass. I like my place. I hope I shall be able to work on the land next year. I might stay after longer than my five years. I think I would like to be a farmer when I get older. We had a very good crop last year - about 2,100 bushels of grain altogether. We would have had more if the frost had kept off a little longer. I don't think there is any fear of anybody starving in this country if they like to work. The winters are rather cold, but I don't seem to feel the cold as much this winter as last. I have good warm clothes, and when it is extra cold I don't do much outside. The Spring will soon be here now, and then the farmers will be busy again. I think that will be all I can think to tell now. I remain, yours truly, NATHANIEL BAKER
Nathan is in the 1906 Census From Qu'Appelle District #15 of the Province of Saskatchewan Sub Dist 34 Page 24 Line, Fam, Name, Relationship to Head, Sex, Married/Single/Divorced/Widowed, Age, Country or Place of Birth, Year of Immigration, Postal Address, Sec, Twp, Rng, Mer
33, 14, Wass, William, Head, M, M, 31, England, 1891, McLean, 6, 19, 15, W2,
39, ", Wass, Clara, Wife, F, M, 27, England, 1895, McLean, ", ", ", ",
40, ", Wass, Sydney, Son, M, S, 6, Sask, , McLean, ", ", ", ",
Page 25
1, ", Wass, Leo Thomas, Son, M, S, 5, Sask, , McLean, ", ", ", ",
2, ", Wass, Alf John, Son, M, S, 3, Sask, , McLean, ", ", ", ",
3, ", Wass, Reginald, Son, M, S, 1, Sask, , McLean, ", ", ", ",
4, ", Wass, Wilfred, Son, M, S, Mar 6, Sask, , McLean, ", ", ", ",
5, ", Wass, Harold, Son, M, S, Mar 6, Sask, , McLean, ", ", ", ",
6, ", Streeton, Florence, Cousin, F, S, 25, England, 1906, McLean, ", ", ", ",
7, ", Baker, Nathanial, Hired M, M, S, 16, England, 1901, McLean, ", ", ", ",
After 10 years with the Wass family Nathan took out his own Dominion Land Grant on N1/2, Section 22, Township 21, Range 15 West of the 3rd Meridian, in the Matador District of Saskatchewan, near Kyle in 1910.
Nathan appears in the 1911 Census, Saskatchewan, Moosejaw District 211, Sub District 77 Page 4 Line 6, Dwelling 50, Family 64,
Baker, Nathanial, Location NE1/4 Section 22 Township 21 Range 15 W3, Male, Head, Single, Born June 1889, Age 21, Born England, Immigrated 1901, Origin English, Nationality Canadian, Religion Anglican, Occupation Farmer
On July 19, 1915, at age 26, joined the army with the 65th Battalion of Saskatoon. His service number was 472036. His attestation paper shows a handwritten note listing his mother as next of kin and an address 65 Corfield Street, Bethnal Green, London, England. We are not sure where this came from as we have found she had died in 1901. After reading his service record we note that on July 31, ? he revised his will to read his brother William Baker, 165 Corfield Street, Bethnal Green, London, England, so the entry on his attestation paper does appear to be an error.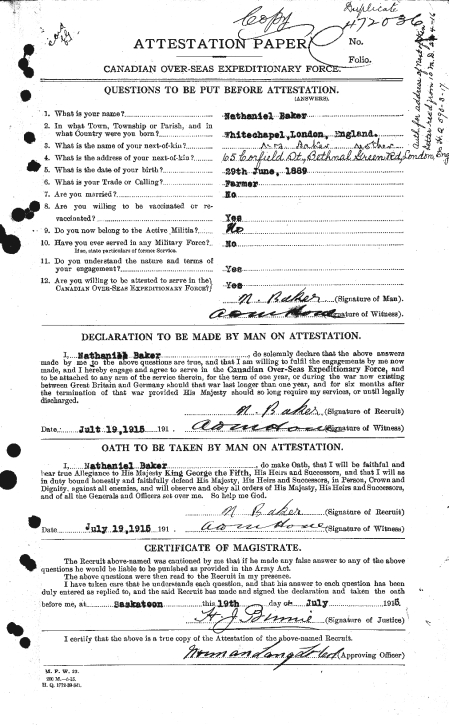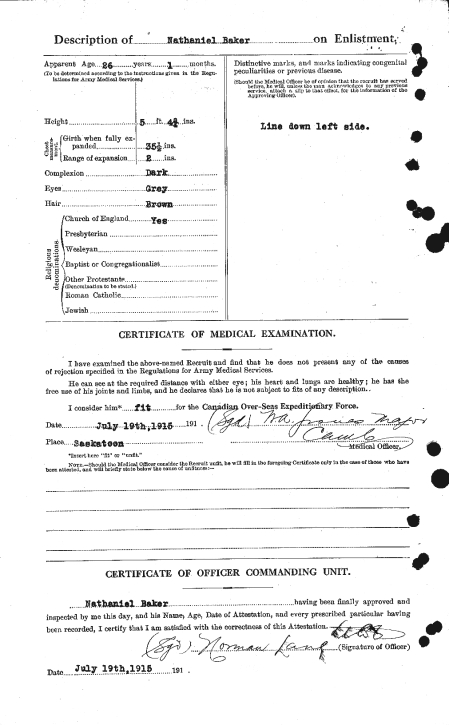 Nathan's Attestation Papers on enlistment
He served in France with the 46th Battalion, 2nd Canadian Division at the battle for Vimy Ridge.
After reviewing his service record which we obtained online we learned more about the trauma he went through at Vimy Ridge.
From March 10 to March 16, 1917 he was treated, at No.1 Canadian General Hospital in Estaples, Northern France, for Poison Gas from a severe drift of gas from a Poison Gas Shell. He was moved to No. 6 Canadian Convalescent Hospital in Estaples. He finally returned to his unit on April 13, 1917.

On May 6, 1917 he recieved a Gun Shot Wound on his right forearm. He was treated and returned to his unit on May 7, 1917.

However it would appear the wound did not heal properly and he was returned to the No.6 Canadian Convalescent Hospital where it was discovered he had a compund fracture.

On August 25 he was moved to 1st. Western General Hospital in Liverpool, England.

On December 12, 1917 he was discharged from Hospital and returned to Canada.
He was discharged on February 23, 1918.

On February 23, 1918 he signed off his final pay at Regina, Saskatchewan.
Nathan was awarded the British War Medal and the Victory Medal.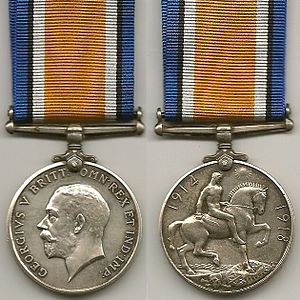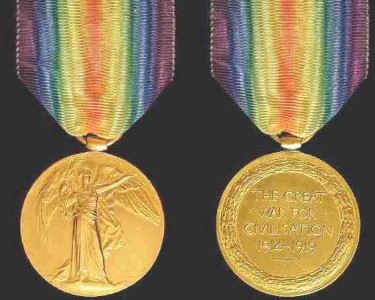 British War Medal - Victory Medal
He became my Great Uncle when he married my Grand Aunt Louisa Amelia Mills in 1920 in Swift Current, Saskatchewan.
Nathan and Louisa appear in the 1921 Canada Census Saskatchewan, district 217, sub district 4 Kindersley, page 3, lines 34 & 35, dwelling 40, family 40, section 2, township 21, range 15, w2:
Baker, Nathan, Head, Male, Married, age 31, born England, father born England, mother born England, Immigrated 1900, naturalized 1890, nationality Canada, origin English, religion Church of England, occupation Famer
Baker, Louisa, Wife, Female, Married, age 20, born England, father father born England, mother born England, Immigrated 1914, naturalized 1891, nationality Canada, origin English, religion Church of England
Nathan and Louisa had three children:
Gordon Stanley Baker, born July 7, 1921 in Kyle Saskatchewan, died December 13, 1999 in Saskatoon, Saskatchewan
Dorothy Aileen Baker, born march 30, 1925, died April 9, 2005 in Edmonton, Alberta
Alan McLeaod Baker, born 1935, died 1954 in Swift Current, Saskatchewan.
In 1922 a picture was taken of Nathan and Lou with Gordon.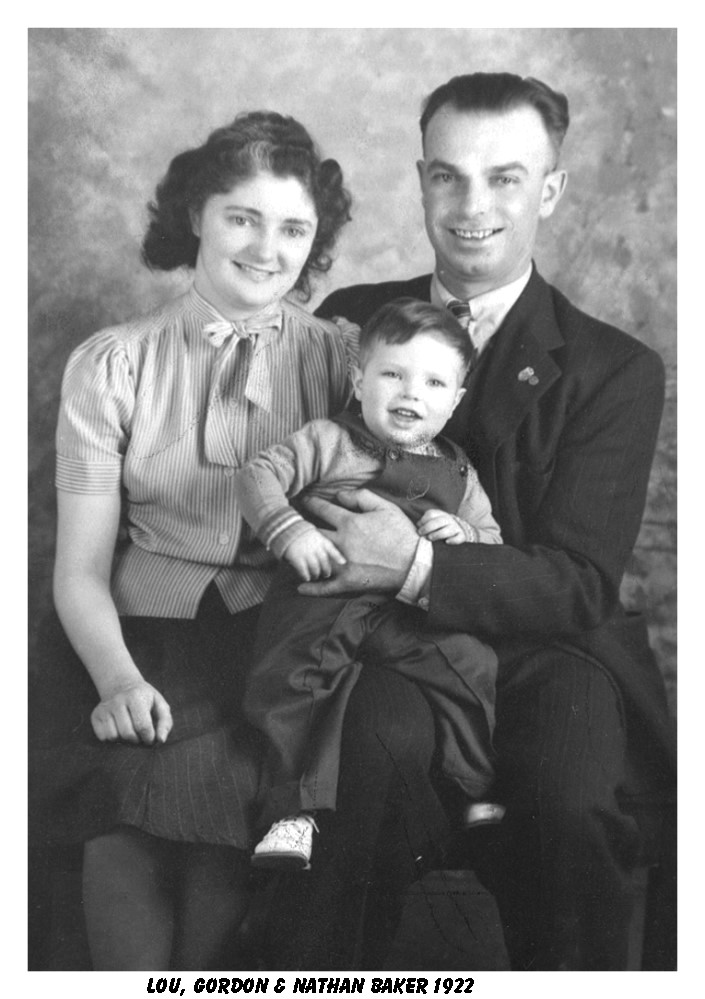 On Confederation Day 1927 a picture was taken of Gordon and Dorothy with cousins Myrtle (my mother) and Pat Pinkerton and Mildred Lonsdale.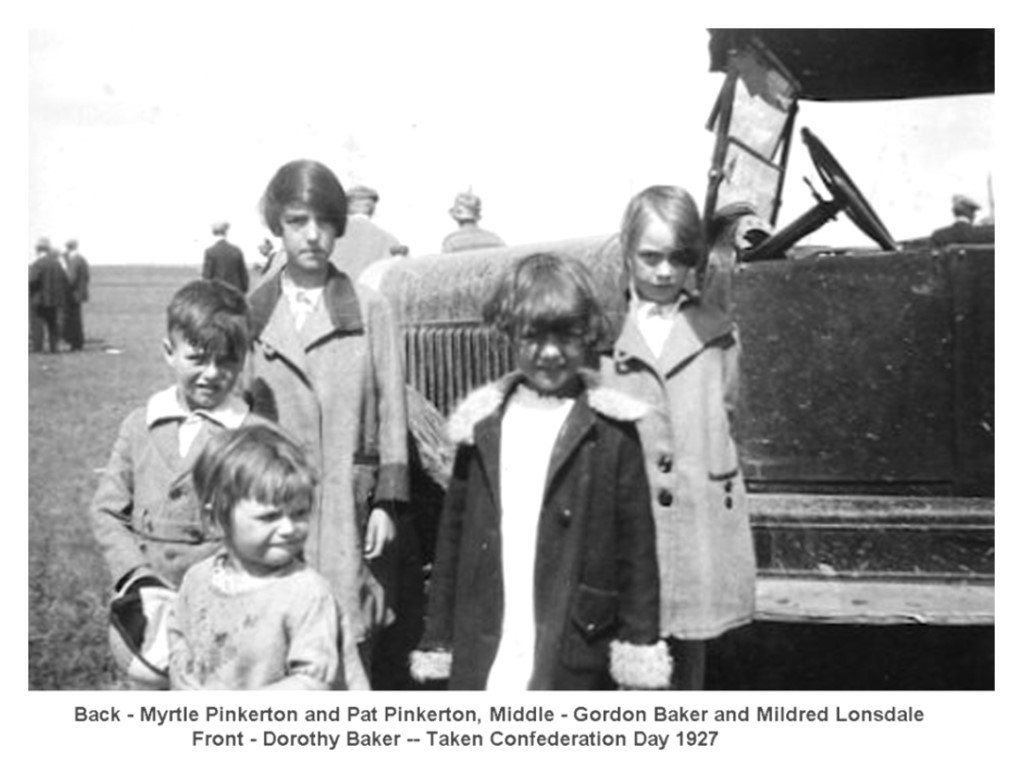 In 1941 he had convinced his son Gordon that mayhem in the trenches that he had experienced at Vimy Ridge was not the place to go when World War II broke out and a result Gordon joined the R.C.A.F., in January, which made him very proud.
In 1943 with Gordon ready to go overseas, a family picture was taken.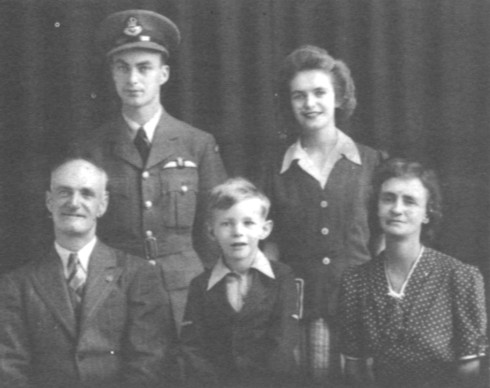 Nathan, Gordon, Alan, Dorothy and Lou
My Uncle Nathan was a very good fiddle player, and was well known in the Matador district of Saskatchewan for his lively tunes at dances. I remember, as a youth, listening to him play at dances at the North Landing School and at Clearwater Lake. However my fondest memories are, while staying at their very modest 4 room farm house, sitting in the tiny living room in the evening, with their son Alan, while "Aunt Lou" played the Organ and "Uncle Nathan" played the fiddle, while all sang their favorite hymns.
I also remember working a number of summers in my early teens, driving truck and tractor, for "Uncle Nathan", and I remember him as being a very firm, but also one of the nicest gentlemen I ever met. Staying at his and Lou's farm was a real joy. Their son Alan, while a few years older, was one of my best childhood friends. I remember them reading "National Geographic" magazines in the we hours by lamp, and imagining adventures of all kinds around the world.
The last picture we have of Nathan and Lou was taken in 1976.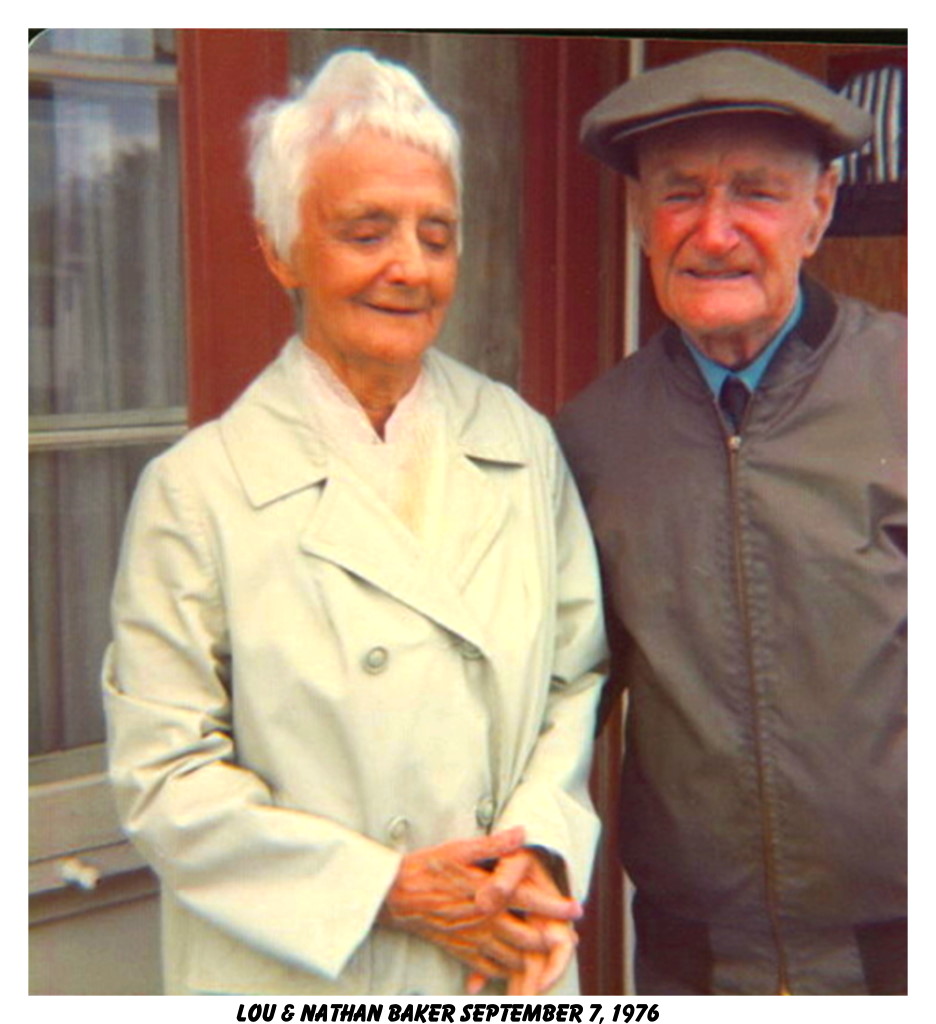 In 1978 a four generation picture was taken with Nathan, his son Gordon, his grandson Terry and great grandson Neil.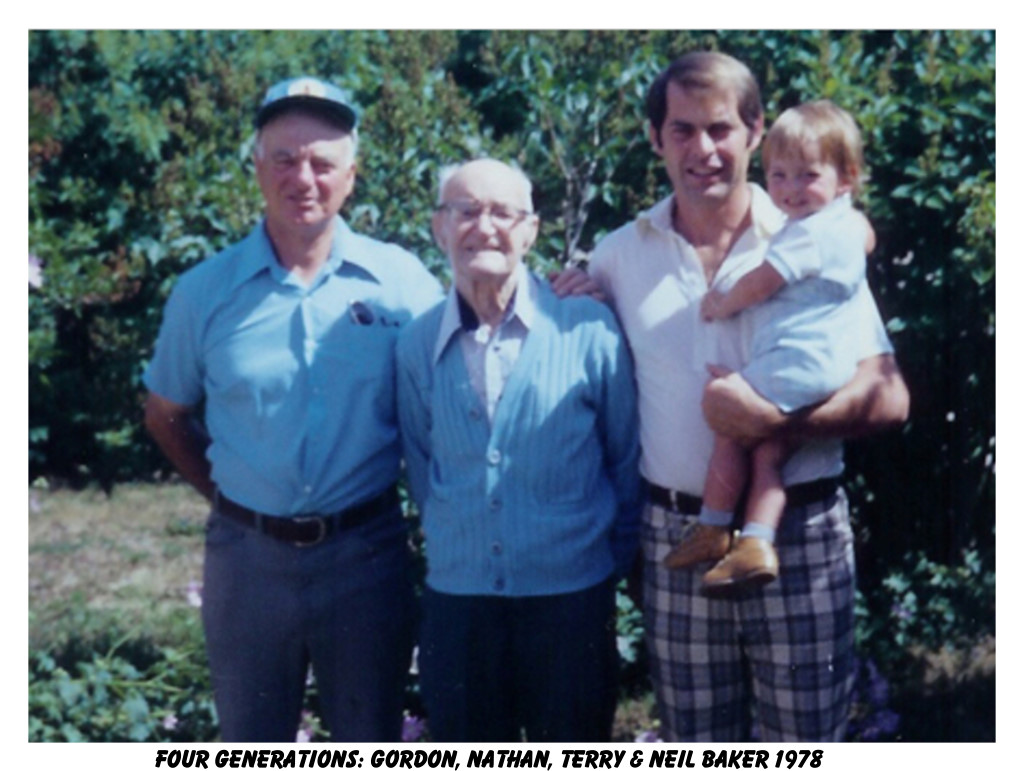 Nathan passed away August 29, 1980 at age 91. His wife Louisa had passed away the year before July 6, 1979.
Nathan is buried beside his beloved wife in the Clearwater Cemetery just north of Kyle, Saskatchewan.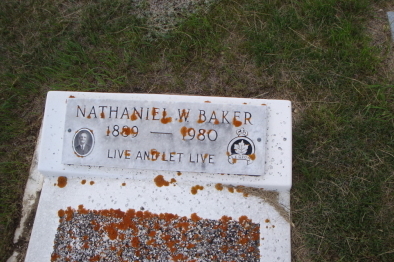 On April 9, 2017 please join Canada's celebration of the 100th Anniversary of victory at Vimy Ridge by visiting the Vimy Foundation site at http://www.vimyfoundation.ca/
Page updated April 29, 2017