Milton Henry Brooks' World War One Story!
written by Herb Barge, 2nd Cousin
Milton Henry Brooks was born April 25, 1898 in Saugeen Township, Ontario the son of John Henry and Laura (Agar) Brooks. Milton had two sisters Mary Florence and Olive Evelyn Brooks.
He enlisted in the Canadian Expeditionary Force on May 5, 1916.
The following was transcribed from his World War One service record:
He was assigned to the 209 Overseas Battalion on October 2, 1916.
He arrived in England on November 11, 1916.
He was wounded in the foot in France on August 18, 1917.
He spent much time in Hospital unit 10 at Bearwood Hospital from September 21, 1917 to December 2, 1917 and was treated for the wound and Bronchitis.
He was returned to Canada on February 28, 1918 and was discharged from the Army on March 30, 1918.
He was awarded and received the British War Medal and the Victory Medal.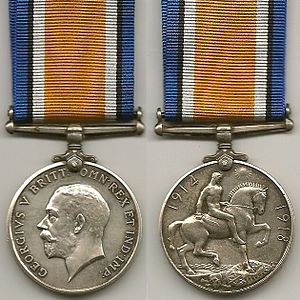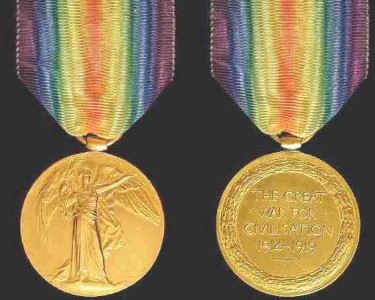 British War Medal - Victory Medal
He moved to the United States.
In 1929, in Illinois, USA, he married Emma Clara Carrier and they had two sons, Vernon and Kenneth.
Milton passed away May 22, 1980 in Lee County, Florida, USA.
Page updated January 19, 2018