Jiggs - Our second Dog
Jiggs was the boy in a litter of two pups that the owner called Maggie & Jiggs and were born early 1970. He was part Keeshond and while he had the size and build of a Keeshond, he had short hair like a German Sheperd. However he had the heavy undercoat of the Keeshond, which came out in huge bunches in the Spring. His sister Maggie who we seen years later had the long hair of the Keeshond.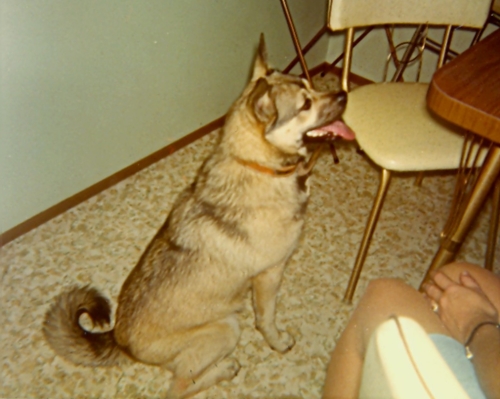 Jiggs July 1970 when still really a Pup.
Jiggs was a real escape artist and it seamed that no matter how good a Fence we built he would find a way out. He just loved to jump in the Pound Truck and we bailed him out of Jail more times than we would like to remember. In 1976 we built a Dog Run to keep him in, which did work for a while, but upset the Neighbors.

Jiggs May 1976 in his new Dog Run.


Jiggs May 1976 in his new Dog Run.
Jiggs loved the outdoors and was happiest when we were Camping or Hiking.

Jiggs hiking with our Son John.


Jiggs hiking with our son John and daughter Laurel and her dog Shiner.

Jiggs died of Cancer in 1985
Page updated January 6, 2011