Henry Andrew Cluff's World War Two Story!
Henry Andrew Cluff is the son of John Reginald (Rex) and Olive Myrtle (Pinkerton) Cluff.
We will let Andrew tell his story in his own words, but first here is a picture of Andrew in 1944 during a leave.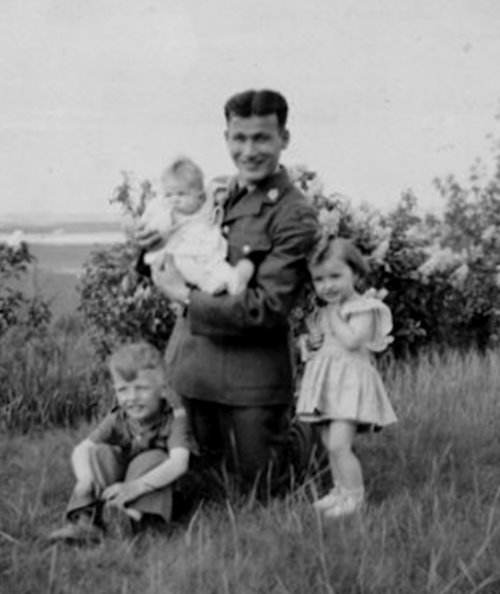 Andrew with Herbert, Judith and Beverley Barge 1944
Now Andrew's story in his words:
I am not certain about exact dates, but my Regimental Number was L-100230 and my rank was Private.
I joined the Army on or about April 1939 in Regina, Saskatchewan. I received my Basic Training there. Then I was posted to Camp Borden, Ontario for my Advanced Training.
While in Camp Borden, I spent six weeks in Toronto, taking a clerical course, and upon return I was posted to the Royal Canadian Army Medical Corps. From there about 1941 I was shipped to Aldershot, England for further Training. I was posted to No. 16 General Hospital, while there, where I did clerical work in an X-Ray clinic.
After about six months, our Hospital unit was transported to Europe, landing Caen, France. We set up our Hospital in Tents, and we slept in Tents with our Helmets on. About 8 to a Tent.
From Caen we moved to Belgium, then Holland where we set up our Hospital in vacant and abandoned buildings. After a few years in Belgium and Amerstfoot in Holland, the war came to an end and I returned home by ship on or about the spring of 1946, the same year I received my discharge. - Andrew Cluff, March 2009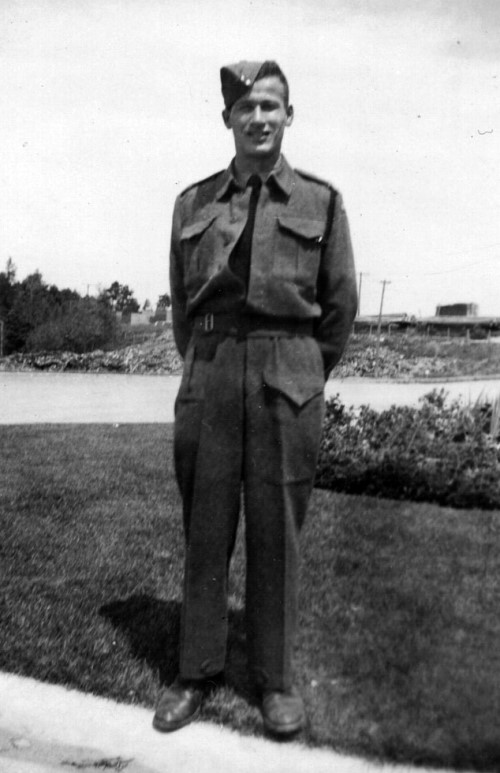 Andrew on his return from service in 1944
Andrew is currently retired in Chilliwack, B.C.
Page updated November 10, 2015