Frederick Chess' World War One Story!
written by Herb Barge
Frederick Chess was born 26 January 1897 in Katerinelab Government, Russia the son of Alexander and Rose (Histril) Chess.
He was enlisted February 19th, 1916 into Canadian Overseas Expiditionary Force.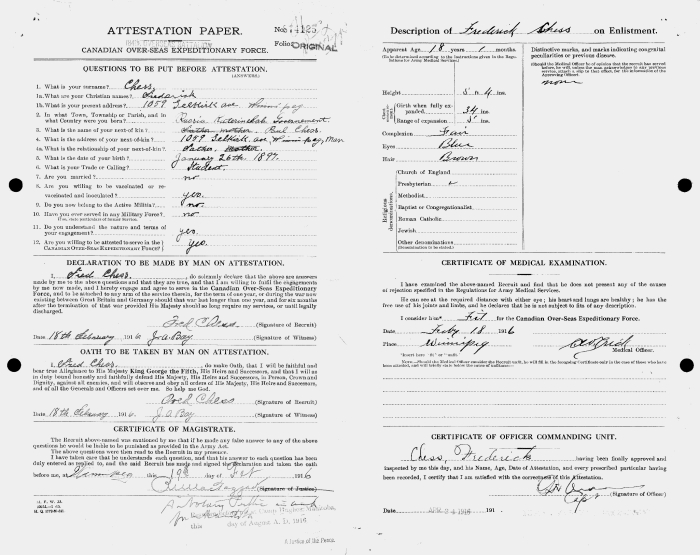 The following was transcribed from his World War One Service File.
He was assigned to the 184th Overseas Battalion on September 21, 1916.
His Military Will shows that he named his father Paul as his next-of-kin.
He embarked from Canada on October 31, 1916 and arrived in England November 11, 1916.
He was transfered to the 11th Reserve Battalion on November 12, 1916.
He was transfered to the 27th overseas on June 16, 1917.
He landed in France on June 17, 1917.
He was wounded in the knee on August 21, 1917.
He returned to duty on August 24, 1917.
He was transfered back to England on October 30, 1917.
He departed for Canada on December 28, 1917.
He was discharged from the Army on February 15, 1918 due to the wound making him unfit for service.
He was awarded the British War Medal and the Victory Medal.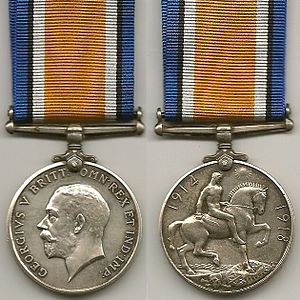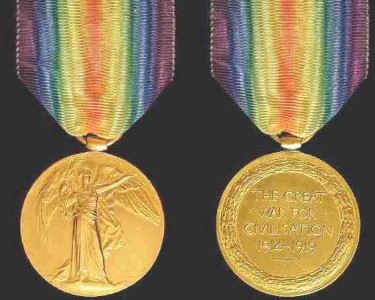 British War Medal - Victory Medal
After the war he married Margaret Sophia Brooks on 18 August 1920, in Winnipeg, Manitoba.
Together they raised six children: Frederick, Gordon, Margaret, Violet, W. Alex, and Charlotte.
Frederick passed away February 25, 1985 in St. Catharines, Ontario.

Page updated January 20, 2018