Enos Elmer Hogue's World War 1 Army Story!
written by grand nephew Herb Barge
Enos Elmer Hogue was born July 4, 1894 in Ryde Township, Muskoka County, Ontario, the son of William Frederick and Selina Gertrude (Brooks) Hogue.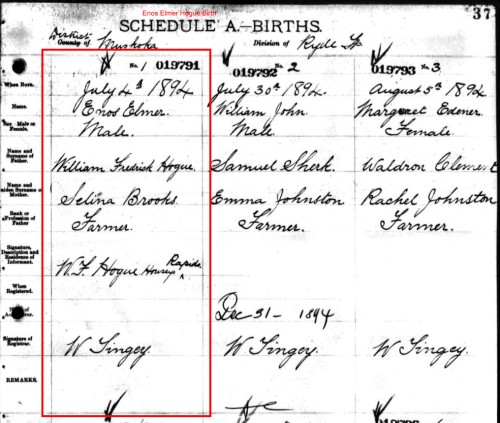 Enos's Ontario Birth Registration.
His mother died in 1895 and the family moved to the Assiniboia District of the the then North West Territories. There he was raised by an Aunt Elizabeth (Brooks) Tyler. He and his older brother Percy are shown living with her and her childrn in the 1901 Canada Census for Assiniboia West on Section 1, Township 17, Range 23 West of the 2nd Merridian. Also shown living on that same section was his Grandfather and Grandmother William Henry and Nancy Brooks.
He had three older sisters and one older brother.The oldest sister Agnes Aramenta Hogue died at age one. The next eldest Lily May Hogue married Frank Mundye Barge. His oldest Brother Lemuel Percy Hogue first married Ada Hadwin and then after her death, married Margaret Houston Brownlie. His other sister Sylva Gertrude Hogue married John Frederick Brooks.
On January 5, 1916 he enlisted in the Canadian Overseas Expiditionary force.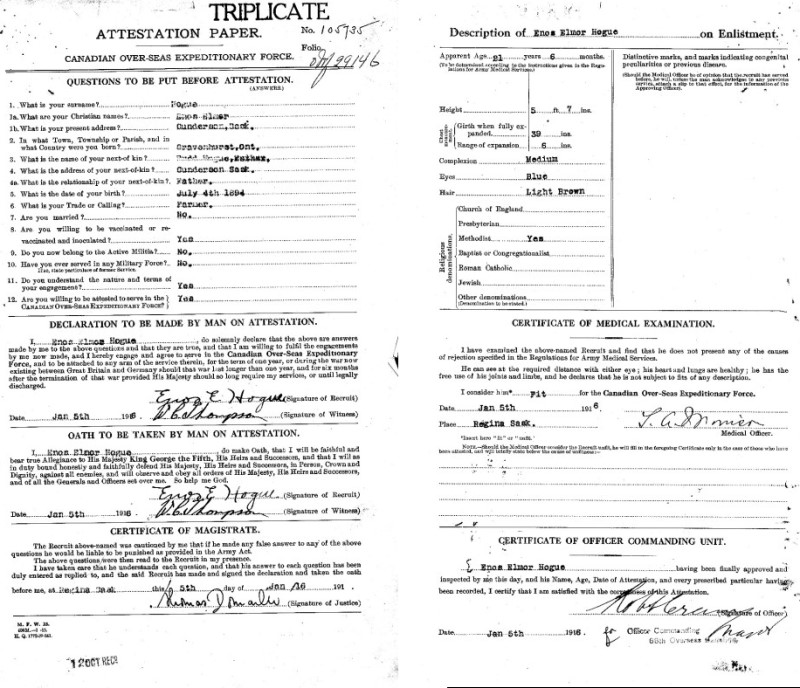 Enos's Attestation papers upon enlistment.
The following was transcribed from his World War One Service Record:
He was assigned to the 68th Battalion.
He embarked from Halifax May 1, 1916.
He disembarked in Liverpool May 8, 1916.
He arrived at Canadian Base Depot in Havre on June 29, 1916.
He arrived at his Battalion in the field on July 14, 1916.
On September 21, 1916 he suffered a Gun Shot Wound in his right shoulder.
On October 2, 1916 he was taken on strength at Canadian Casualty Assembly Centre.
On December 22, 1916 he was transfered from Canadian Casualty Assembly Centre back to the Canadian Base Depot, St leonards.
On February 14, 1917 he was taken on strength with 15th Canadian Reserve Battalion.
On March 21, 1917 he joined 28th Battalion in the field.
On May 29, 1917 he was again wounded in the left fore arm.
on May 30, 1917 he received multiple wounds.
while in Hospital in Englad he met a Nurses Aid an in Lambeth, London, England, he married Lily Constance Ruck, and then brought her home to Canada with him.




Enos and Lily after their marriage.


On September 17, 1919 he departed Liverpool for Canada, arriving in Quebec on September 24, 1919.
On September 29, 1919 he was discharged from the Army.
He received the British War Medal and the Victory Medal.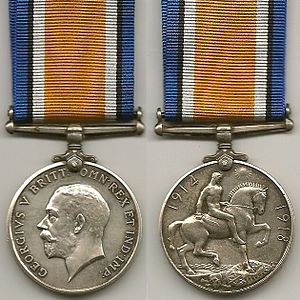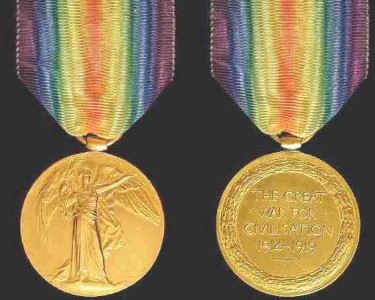 British War Medal - Victory Medal
They had four children after returning to Canada. Iris Eudora, Thelma, Franklin Roy (Bud) and Clive.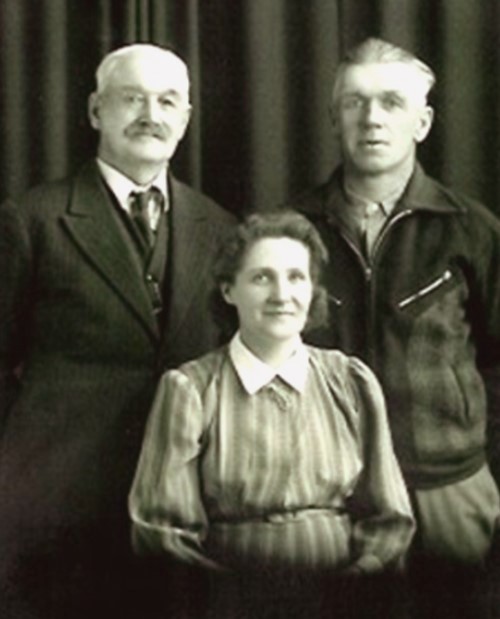 Enos and Lily with Enos's father William Frederick Hogue in 1942.
Enos passed away June 18, 1959. He is buried next to his wife and Father in the Mount Pleasant Burial Park in Swift Current, Saskatchewan.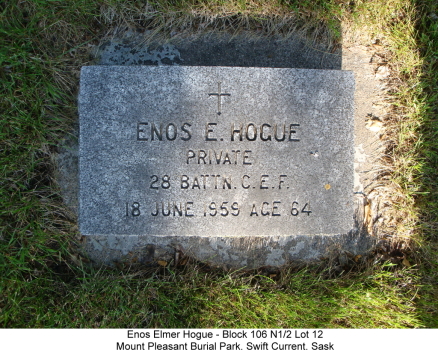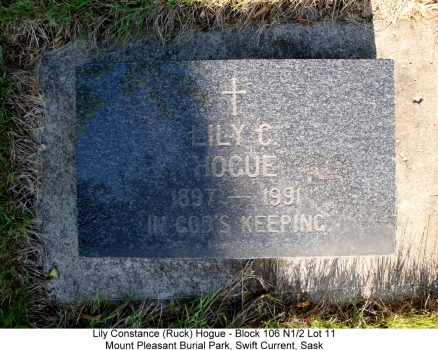 Page updated January 21, 2018