Angus Walker Plewis' WW I Story
Angus was born 27 August 1895 the son of William Sanford Plewis and Christina Abernethy, in Ryde Township, Muskoka, Ontario. The last name of the family was sometimes spelled "Plewes".


Angus' Ontario Birth Registration.
On March 17, 1916 he joined the Army in Moose Jaw, Saskatchewan and was asigned to 229 Overseas Battalion Canadian Expiditionary Force.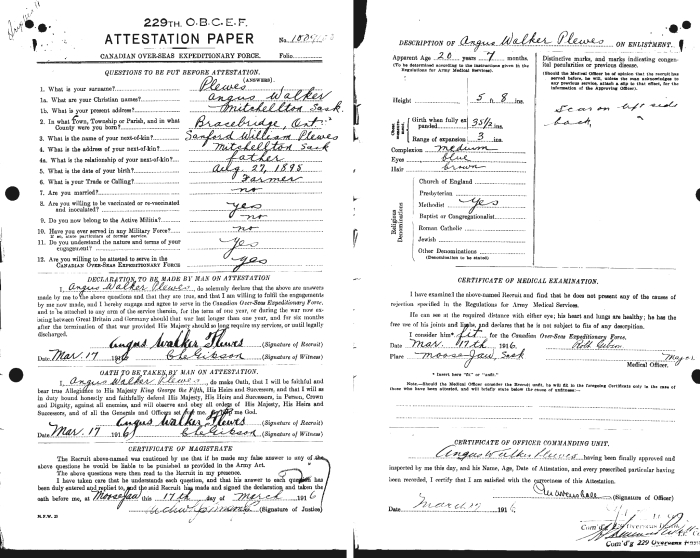 Angus' Attestation Paper.
The following was transcribed from his World War One Service Record:
He embarked from Halifax, Canada April 17, 1917 and debarked in Liverpool, England April 29, 1917.
He joined the 12 Canadian Machine Gun Corp on September 17, 1917.
He was promoted to Corporal on January 25, 1919.
He was awarded the Military Medal on February 13, 1919 and it was presented on May 1, 1919 in England.

The criteria for this medal is "The medal is awarded to Warrant Officers, Non-commissioned Officers and non-commissioned members for individual or associated acts of bravery on the recommendation of a Commander-in-Chief in the field."

Angus arrived back in Canada on 13 June 1919 on board SS Olympic through the Port of Halifax, Nova Scotia after departing from Southampton, England.
He was discharged on June 19, 1919.
He was awarded the British War Medal and the Victory Medal.




British War Medal - Victory Medal
1921 Canada Census province Saskatchewan, district 221 Moose Jaw, sub district 28 Baildon Municipality, page 12, line 7, Plewis, Angus W., Lodger, Male, Single, age 25, born Ontario, father born Ontario, mother born Ontario, nationality Canadian, origin English, religion Methodist, occupation Road Labourer.
On June 29, 1926 he was granted a Soldier Homstead Grant on section 9 SW, Township 11, range 27, W2.
According to Veteran Affairs with information obtained from Death Certificate he died November 26, 1972 at Thessalon, Ontario.
Page updated January 21, 2018