Allan McArthur Silverthorn's Air force Story!
written by 3rd cousin Herb Barge
Allan was born November 23, 1922 in Dilkie, Saskatchewan the son of William Eli and Phoebe Laura (nee McArthur) Silverthorn.
What we know about Allan was discovered by Karen Hanna on a web site as follows:
WW2 Canadian Air Force (R221971) J44519 Allan McArthur Siverthorn born Nov 23, 1922 Dilkie Saskatchewan, Canada. Parents, William Eli Silvernthorn, farmer and Phoebe Laura nee mcArthu rstill reside at Dilkie, both born Ontario. Single, attending University of British Columbia, 2nd year Arts program. Joining 1942, cadet #K578203 with C.O.T.C, Vancouver - UBC. Education Dilkie public school 1929 - 1937 Honours and Dilkie High School 1937-1941 Second Class Honours. UBC 1942 - present. Occupations: Woodward Dept Store Oct 1941- April 1942, left for advancement; Boeing Aircraft of Canada April 1942 - present, left to join RCAF. Had polio myelitis at age 5. 148 lb, 5'9-1/4". Enjoys hockey and bowling. No flying experience, wish to enlist for flying duties. United Church. Oath taken March 26, 1943. Sister Mrs. W.C. Speers, resides Vancouver, to be contacted of casualty; Mrs W.E. Silverthorn, mother, next-of-kin contact. Letter sent to father dated April 6, 1946 declaring Flying Office Allan McArthur Silverthorn is legally declared dead. Died June 19, 1945 on Active Service Overseas.
On the web site we found a picture of Allan in uniform: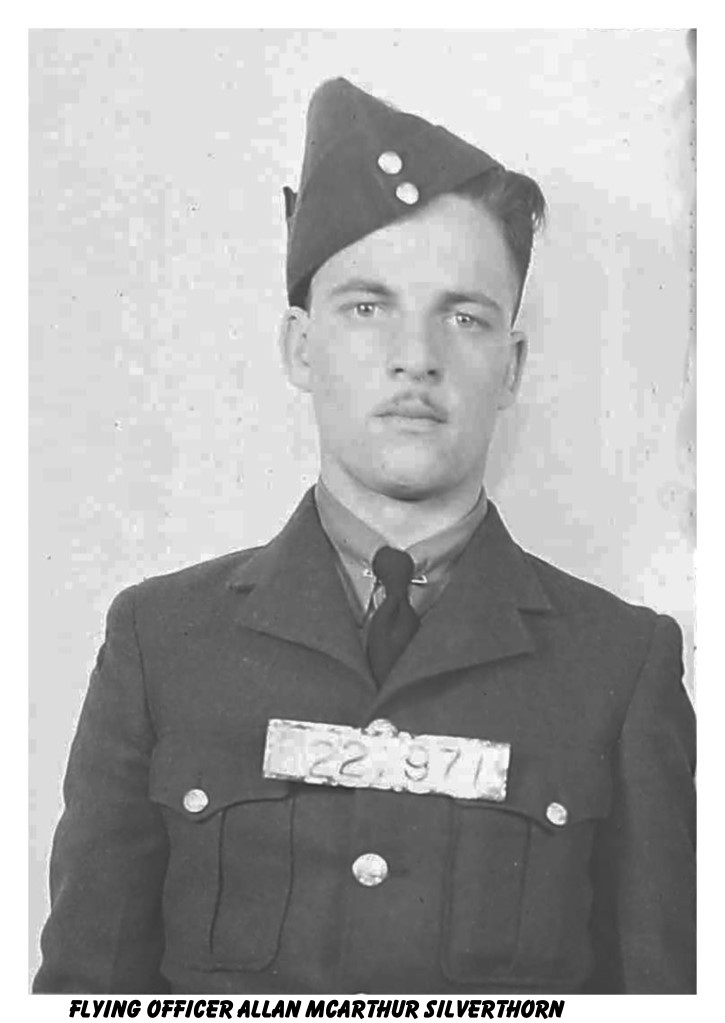 On find a grave his name is found on the plaque. Singapore Memorial Kranji, North West, Singapore PLOT Name listed on Column 456:

A search on the National Archives of Canada web site details this:
National Archives of World War Two service files (war Dead): Surname: SILVERTHORN, Given Name(s):ALLAN MCARTHUR, Age: 22, Date of Birth: 23 Nov 1922, Date of Death: 19 Jun 1945, Rank: Flying Officer, Unit: Royal Canadian Air Force, Force: Air, Service Number: J44519, Reference: RG 24, Volume: 28648, Extra Information: Son of William Eli Silverthorn, and of Phoebe Laura Silverthorn, of Dilke, Saskatchewan, Canada. Item Number: 32537
It shows no other pdf files were available, however the Canadian Virtual War Memorial gives more information.
He is also listed on the Canada at War Page.
A site on WW2 Talk gives us the information that he was Co Pilot of Liberator IV EW124 based in India and that it took off on June 18, 1945 from Jessore at 0330 hours and was never heard from again. The other crew members were
Flight Lieutenant Arthur Erick Franklin ANDERSON RCAF Pilot
Flying Officer Allan McArthur SILVERTHORN 22 RCAF Co-Pilot
Sergeant Kenneth John STORRAR Navigator
Pilot Officer Ernest Frank ELFORD RCAF Air Bomber
Sergeant Walter George BOND 21 RCAF Wireless Operator
Sergeant Albert William ROBERTSON 22 Wireless Operator
Sergeant Wilson Alexander VAUDNER 30 RCAF Air Gunner
Sergeant Alfred MAXWELL 24 RCAF Air Gunner
May they rest in Peace!
Page updated January 7, 2018