Albert George Mills' World War 1 Army Story!
---
Albert George Mills was born 04 December 1898 in Islington, London, England the son of William James and Amelia Rainbow (Harris) Mills.
On 25 May 1908 his Father past away. Bert as he was known was 9 years old.
In June 1913 his Mother and two of his sisters Immigrated to Canada. Leaving Bert and his Sister Louise in Orphanages for the time being.
Bert came to Canada to join his Mother in Killarney, Manitoba in August 1913 as a "Home Child" arriving on the Empress of Ireland, from Liverpool, departing August 8, 1913 and arrived in Quebec August 14, 1913.
He enlisted in the Canadian Army February 8, 1916, stretching the truth about his age (1 year older than he really was) in Winnipeg, Manitoba. They were living in La Riviere, Manitoba at the time. Attestation Paper 701089. His first enlistment was with the 101st Battalion Canadian Overseas Expeditionary and he was later transferred to 72nd Battalion Seaforth Highlanders.
Albert George Mills Attestation Papers
Bert trained in Canada from February 8, 1916 to July 6, 1916, then overseas to England for more training from July 6, 1916 to August 1, 1917. He then went to France from and served until November 2, 1917.
He was gassed on November 2, 1917 and was treated for a Gas Shell burn to his right leg on November 4, 1917.
He was boarded for return to Canada on November 11, 1917, however he did not return and was admitted to 4th Canadian General Hospital, Basingstoke in Hampshire, England on January 4, 1918 for treatment to the burns on his right leg. He was discharged from this Hospital on Januray 29, 1918 and returned to B.C. Seaforth Regimental Depot in Liverpool.
He was discharged from the Canadian Expeditionary Force due to Demobilization of the unit on April 27, 1919.
Albert George Mills in Seaforth Highlander Uniform
Bert was awarded the British War Medal and the Victory Medal.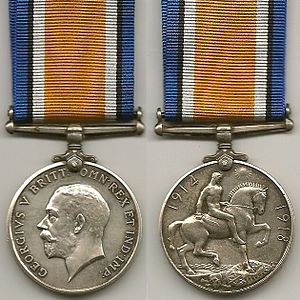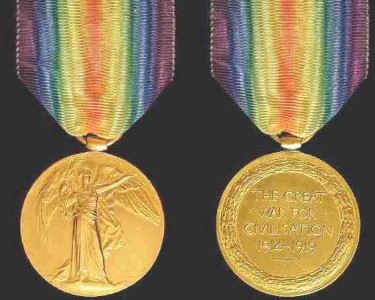 British War Medal - Victory Medal
He was gassed at Passendale and on demobilization was advised to lead an outdoor life, so he came back to Canada and bought Land and Equipment from the Soldier Settlement Board - the SE Quarter of 11-21-15 W3 in the Matador District. He also rented Mr. Scot's Farm for three years. Then he bought a half section from Mr. S. Willsmore.
He married Anne Marshall in April 1926. They had one daughter Marjorie Evelyn Mills born in 1927. She was later to Marry Murray Gavel and provide Bert with 3 Granddaughters, Perry, Leslie and Wendy.
They later sold the Land at Matador and bought Mr. J. Ford's farm west of Kyle, Saskatchewan, and then later acquired more Land
Bert passed away 27 March 1969 in Kyle, Saskatchewan. Anne passed away in 2001. They are buried together, alongside their Daughter in Mount Pleasant Burial Park in Swift Current, Saskatchewan.
Page updated April 29, 2017