About Us!
Janet
Janet was born and grew up in Vancouver, British Columbia. As a child she studied both Piano and Dance. As a youth she participated in Girl Guides. After graduating from Gladstone High School in 1958, she trained as a nurse at Vancouver General Hospital, and since graduation has worked as a Registered Nurse, mostly in Senior Care facilities. She is registered with the Alberta Registered Nurses Association. She is now Retired. She now likes to play Golf, to Geocache and is an avid Gardener.
Herb
Herb was born in Saskatchewan and moved to Vancouver at age twelve. As a Youth he participated in Boy Scouts and Air Cadets. After graduating from Gladstone High School in 1956, he enrolled in the B.C. Institute of Technolgy in Aeronautical Engineering. Completing this course he worked for a number of years in the aircraft maintenance industry, before leaving that field and going into the Petroleum Marketing Equipment industry, where he works today as a business manager. He was also in the Airforce Auxiliary as a Fighter Controller and Trainer and was transfered to the Supplementary Reserve as a Sargeant in 1961 when his squadron closed. He has been a Scout Leader with Scouts Canada for over 40 Years, in a viariety of local, Regional, Provincial and National Roles. He was awarded Scouts Canada's highest award for service, the Silver Wolf, and most recently the Queen's Golden Jubilee Comemorative Medal. Herb has now retired from Scouting and is semi-retired from work. His hobbies are Genealogy, Golf, Geocaching and Web Site design.
Together
We were married in 1962, and since then have lived in Vancouver, Burnaby and Port Coquitlam, British Columbia; and in Calgary and now Redwood Meadows, Alberta. We are blessed with three children: Irene, Laurel and John; and seven grandchildren: Jessie, Matthew, Joel, Taylor, Mark, Todd and Adam, and Great Grandson Eamon Mark Oliver and Great Grand Daughter Emma Kiera Dawn. We love to get away in our Motor Home Camping, playing Golf, and our latest passion - Geocaching. On September 1, 2002 we celebrated our 40th Anniversary.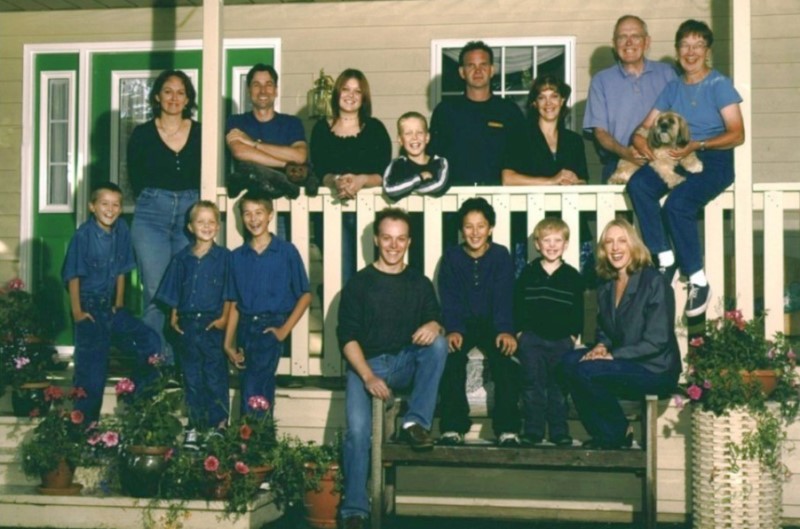 Our Family at our 40th Anniversary September 2002
On September 1, 2012 we celebrated our 50th Anniversary with a camping trip with the family to Schuswap Lake Provincial Park.